Welcome to CNIE, the leading resource about forex in the United Arab Emirates. Here you will find all the information you need about forex trading and the best forex brokers in Dubai.
What is Forex Trading?
The exchange of currencies in international markets for the purpose of earning money is known as forex trading. This activity is done through a specialized broker (forex broker) that offers the opportunity to trade currencies instantly using a trading platform connected to the interbank market in real time.
The forex broker is a specialized company that has all the necessary resources to connect its clients to the forex market. These brokers offer excellent conditions for currency speculation, which cannot be matched by currency exchange offices or banks.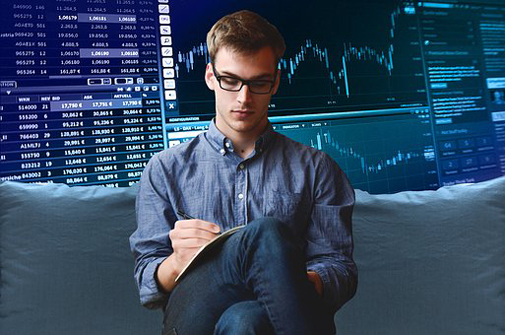 To better understand how forex trading works and how a trader can earn money this way, we are going to give you a basic example of a transaction. Let's consider that Mohammed buys 100,000 euros with US dollars. The exchange rate is $1.1000 for one euro, meaning that Mohammed pays 110,000 US dollars to buy the 100,000 euros. The exchange rate of the euro rises against the dollar with 1% to 1.1100 dollars for one euro. Mohammed decides to sell his euros to obtain his profit. He will receive 111,000 US dollars when selling his euros. Thus, with a rise of only 1%, Mohammed has earned a thousand US dollars in the forex market.
A 1% rise can happen in a day, meaning that trading in the forex market can generate very high profits in a very short time. Now you're going to think that "I do not have a hundred thousand dollars", and that only the rich can earn so much money this way. It is natural to think like this, since we all know that most investments and opportunities are available only to the rich, but in the case of forex, this is not true.
This is where leverage comes in.
How Leverage Works in Forex
In order to allow any trader to be able to transact large amounts of money, forex brokers offer leverage. This instrument consists of a virtual credit that the broker offers to its client in order to use larger sums of money.
The broker knows very well that the forex market has small daily movements. For this reason, a trader needs to transact a lot of money to generate significant profits. If Mr. Mohammed from our previous example would have bought only one thousand euros, his profit would have been only 10 dollars. The broker is aware of that, and also knows that if the market had moved against Mohammed, his loss would have been the same. To increase the potential for the profits (and losses) of its clients, the broker offers leverage (this is why forex trading is done through Contracts For Difference, also known as CFDs, which are derivative financial instruments).
If Mohammed has a thousand dollars in his account, he needs a leverage of 1:100 to be able to use one hundred thousand dollars. But in our example, Mohammed had to spend $110,000 to buy the euros, meaning that the necessary leverage in this case would be 1:110. Fortunately, the best forex brokers offer greater leverage. A good forex broker will offer at least 1:200 of leverage, since there are brokers that offer leverage up to 1:1000.
Using leverage offers any investor the possibility to trade with appropriate amounts for the interbank market and to earn a lot of money in the forex market.
But leverage also comes with greater risk. Using a lot of leverage can result in higher losses. In the previous example, if the euro had fallen with 1% instead of growing, our Mohammed would have lost a thousand dollars in one day, that is, all the money he had in his account. That is why it is not recommended to use too much leverage. If you have a thousand dollars in your account, it would be better to buy only 10,000 euros and use a leverage of 1:11 instead of 1:110. This way you would earn 100 dollars with the movement of 1% in a day, but risking only 100 dollars instead of all the money in your account.
The best thing is that the trader is the one deciding how much leverage he/she will use. The broker can offer 1:1000 in leverage, but a reasonable trader will not use more than 1:50 in most cases.
Forex Trading in Dubai
To trade in the forex market you need a broker. There are many global forex brokers that accept clients from the UAE and are able to easily receive deposits from any Middle Eastern country. Trading is done from a platform through the internet, and for this reason you can use a broker located in any country in the world. That is why it is very important to take advantage of this opportunity and use one of the best forex brokers in the world.
To choose a good forex broker we will search only brokers that meet all the following requirements:
• The broker accepts customers from the United Arab Emirates and other countries in the Middle East
• The website of the company is available in English and Arabic
• The broker offers support in English and Arabic
• The broker offers interest-free Islamic accounts
• It has trading platforms for any type of device, from desktop computers to cell phones
• Accepts low minimum deposits, meaning that you can open an account with as low as 100 dollars
• Has a good reputation in forex forums and is one of the largest brokers in the world
• Offers a leverage of at least 1:200, but a higher leverage is ideal
• It has favorable trading conditions, that is, a very fast execution of the orders and a very low "spread" (The spread is the difference between the purchase price and the sale price. The spread is practically the commission of the broker, meaning that a low spread is the equivalent of trading with low commissions.)
• Offers the possibility of negotiating a wide variety of assets, from currency pairs (forex) to precious metals (gold and silver), commodities (oil, coffee, sugar), cryptocurrencies (bitcoin, ethereum, litecoin), stock indices and individual shares of multinational companies.
Best Forex Brokers in Dubai
Considering all the criteria listed above, we have chosen a list of the best brokers in the world to trade forex from Dubai. Here you can see them:
We wish you success in your immersion in the forex market. With patience and perseverance anyone can become a successful trader, and hopefully you will be next.
Disclaimer: CNIE.ORG is not affiliated with any of the companies presented on this website. We are an independent website and are not liable for any potential loss that you may incur by trading with any of the mentioned brokers. This website is not meant for residents and citizens of the United States or any other country where forex trading is illegal.
Risk Warning: Trading in the forex market using Contracts For Difference, Options, Spread Betting and any other derivative trading instruments implies the risk of losing your entire investment. Derivative instruments are complex financial instruments that may not be adequate for everyone. Anyone who decides to trade using derivative instruments does so at his/her own risk and has full responsibility for the potential losses. The general advice is to never trade with money you cannot afford to lose.